We are the absolute worst about seeing the sights that are in our own back yard. But,yesterday Leonard and I turned over a new leaf and visited the Sabal Palm Sanctuary in Brownsville. Sabal Palm is a 550 acre nature reserve and bird sanctuary. The Audubon Society created the sanctuary and it is now run by the Gorgas Science Foundation . To visit, you must travel to the southernmost tip of Texas, along the twisting Rio Grande River.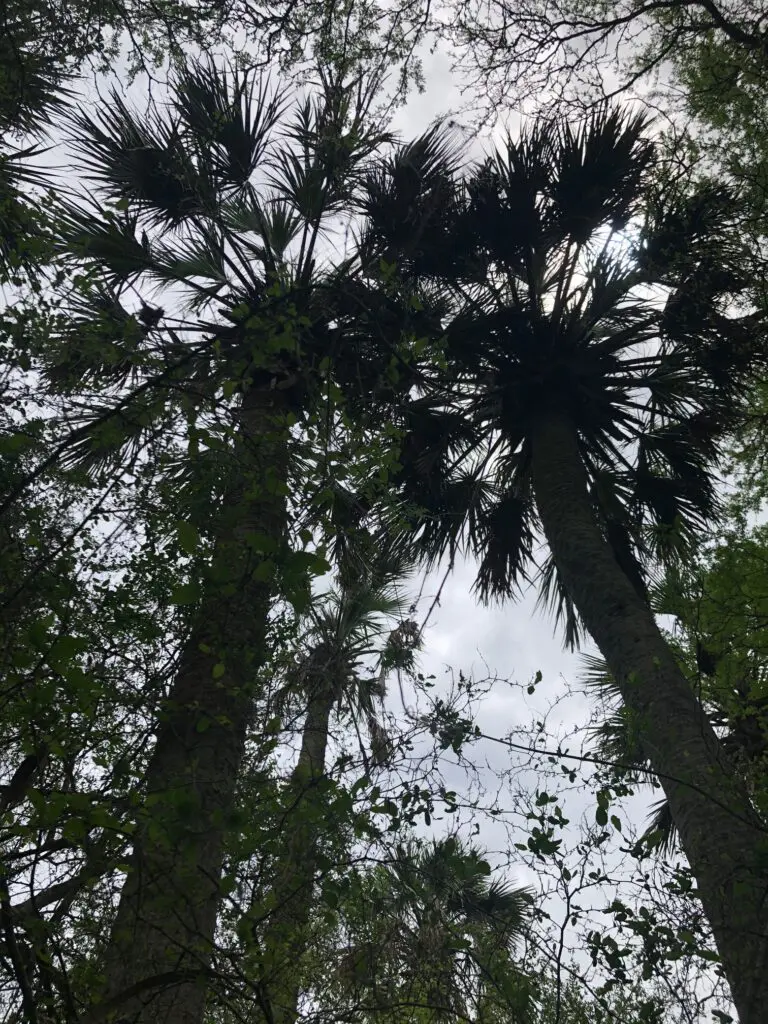 Visiting
Arriving at noon, we didn't show very good sense. Midday in August in south Texas is not a good time to begin a hike. Thankfully Sabal Palm has lots of well groomed trails with short loops and there was a cool breeze in that shaded forest canopy.
The Palm Trees
We were amazed at the height of the oldest trees – the largest palms looked like they were 75 or 80 feet tall. As growers, our rule of thumb is that a Texas sabal will grow 12-18 inches a year. In the wild, without a ready water source, the growth rate is probably much lower. The tallest (oldest) trees had lost their boots (or leaf margins) and were sporting a sleek, smooth trunk. The remaining rings and leaf scars were close together. That indicates slow growth. I'd love to know how old the oldest are – I"ll bet some were there in 1892 when the Rabb plantation home was built.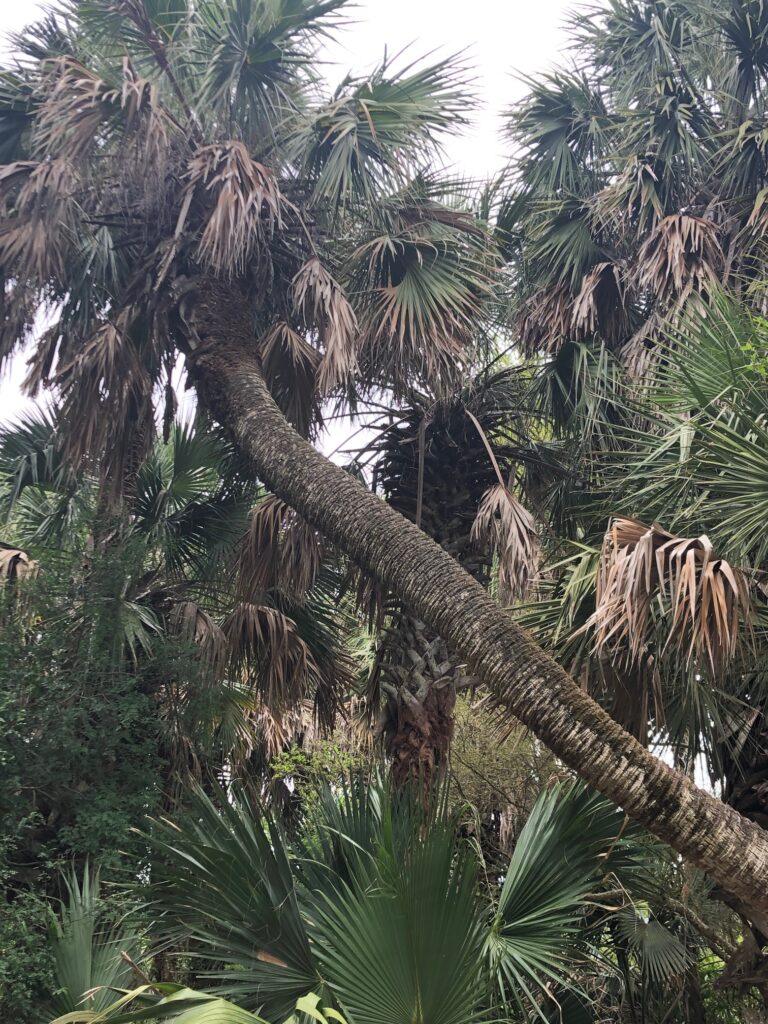 What You'll See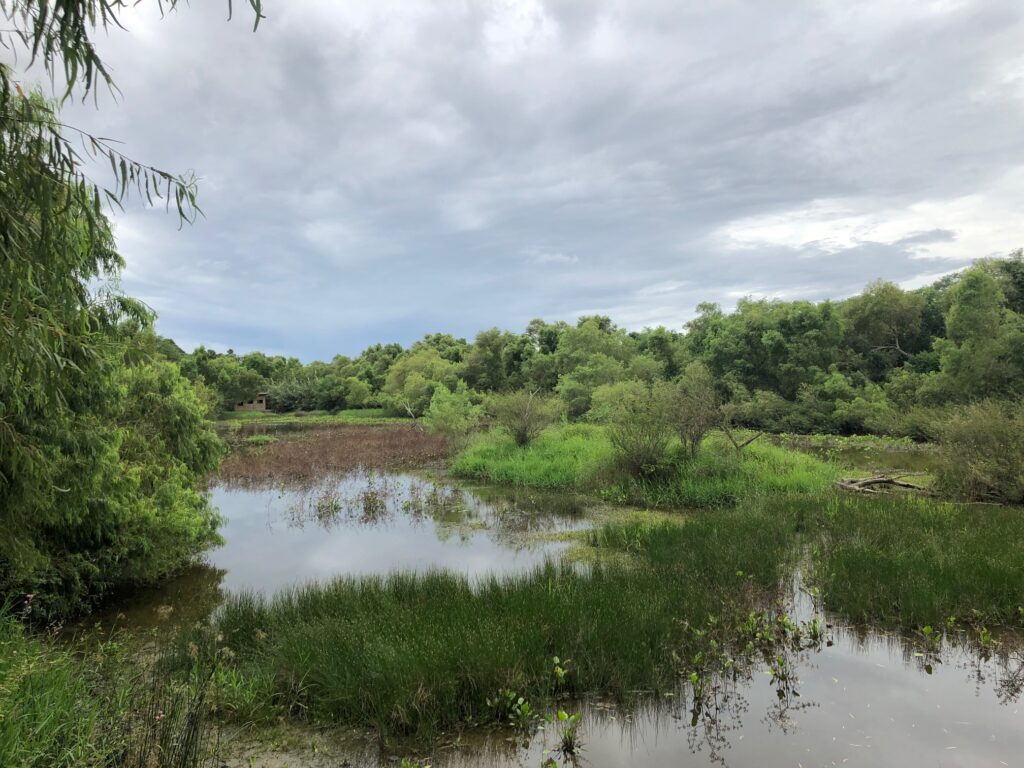 There was lots of bird and butterfly action during our visit. We heard and then spotted a small hawk that was new to us. We didn't get a good enough look to identify it – but maybe next time.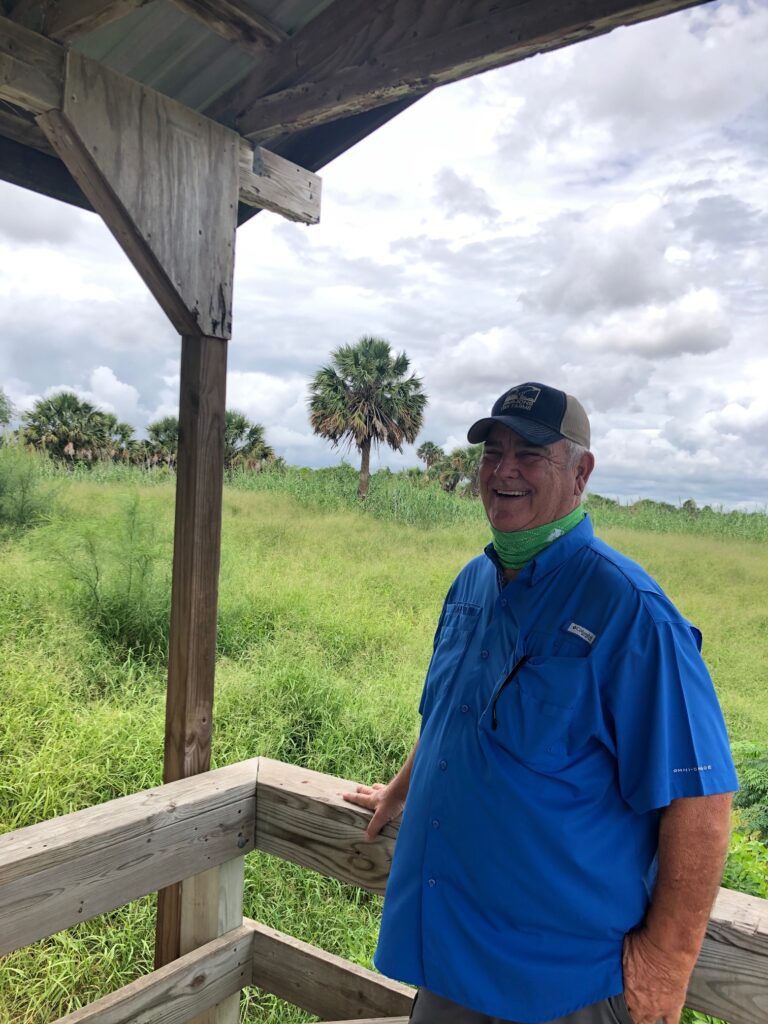 Sabal Palm Sanctuary is located in a bend in the Rio Grande and almost surrounded by water. Ironically, the visitors center told us that they are virtually always in a drought. The overlook above is along the Rio Grande.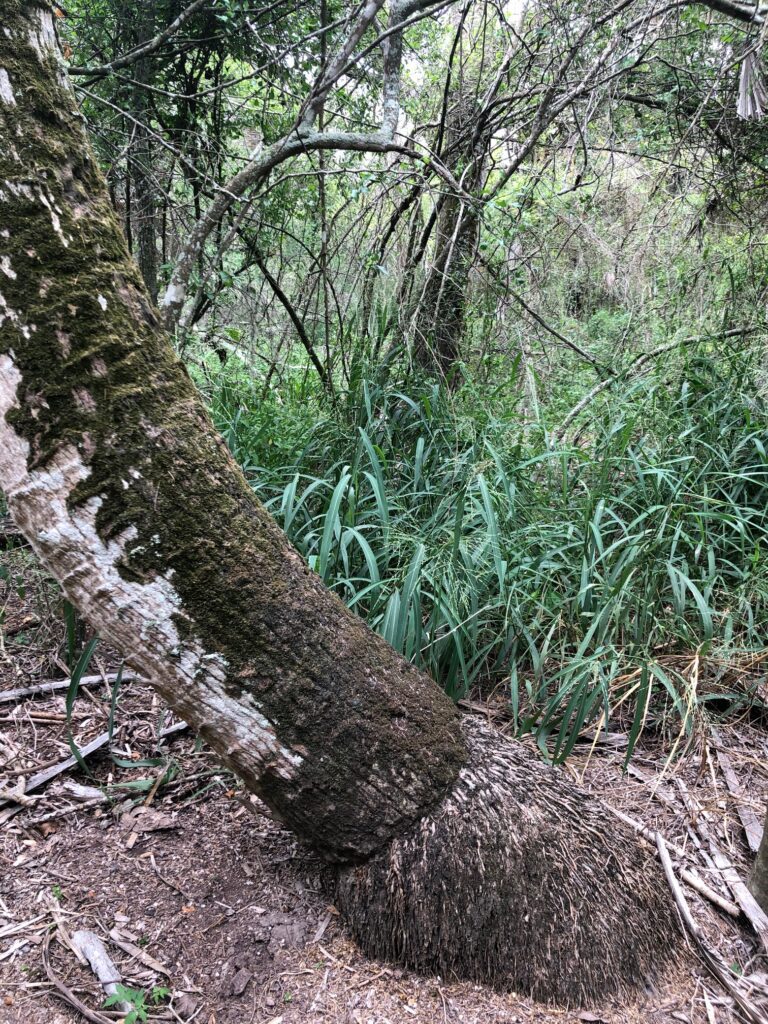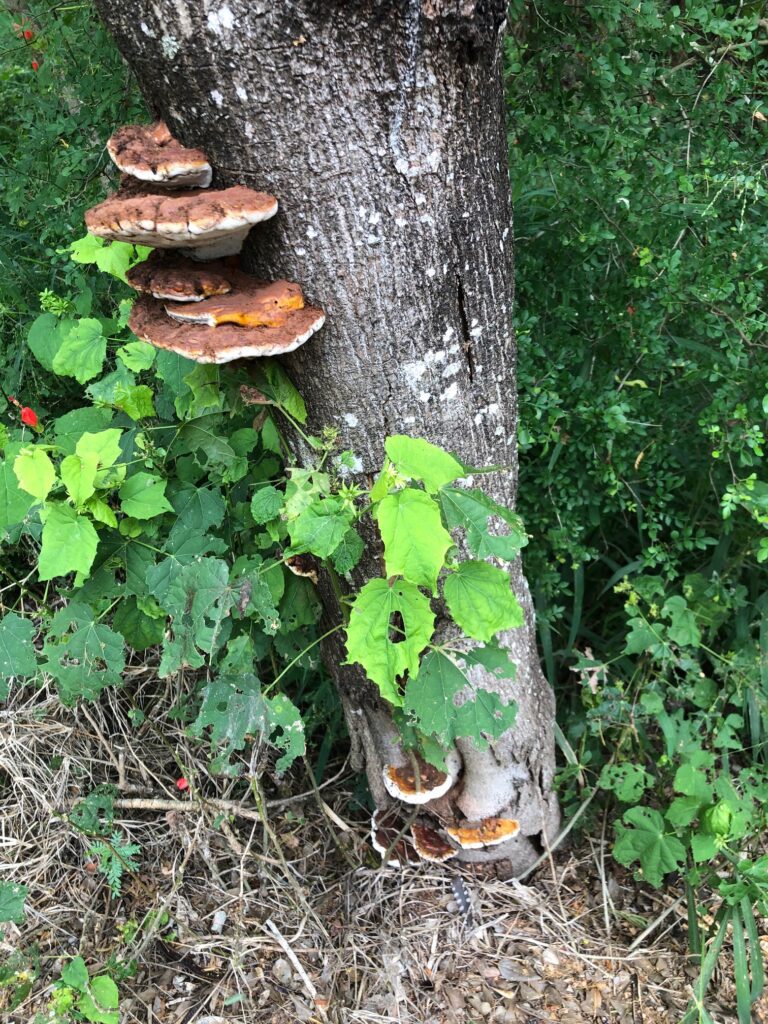 In addition to sabal palms, many varieties of native trees and shrubs are growing in the sanctuary.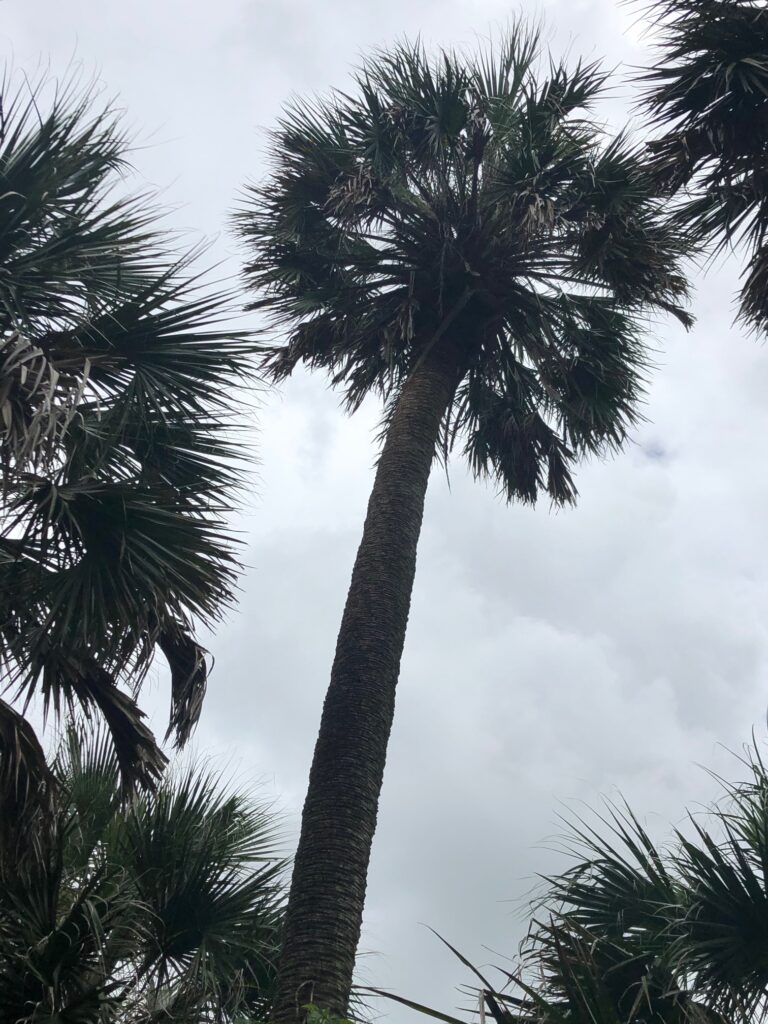 I just couldn't get enough of these sabals silouetted against the sky!
If you go, expect to see many border patrol vehicles. The sanctuary is located inside the Rio Grande levee with many miles of border fence.
The Rabb Home
With the exceptions of this bathroom mural, I didn't take pictures of the house. The mural is charming, but, it seemed a little out of place inside a Queen Anne Revival style house. You can read more about the home here.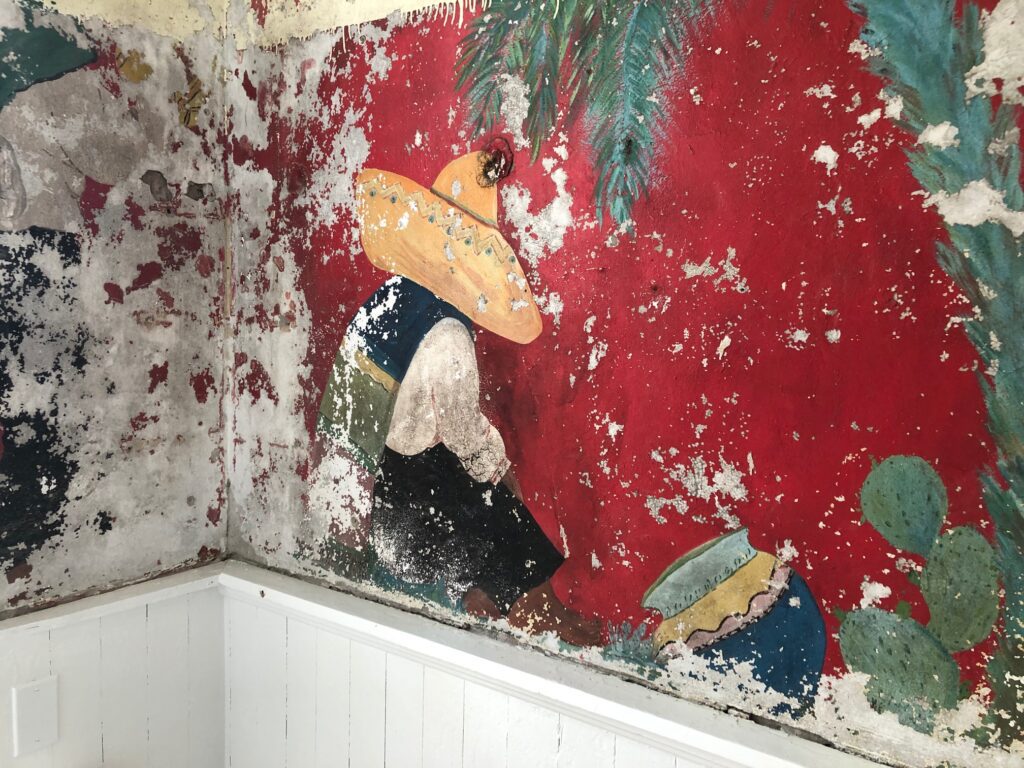 To a person, Texas sabals are a favorite here at Simmons Oak Farms. I would have said that we have some big specimens around Harlingen – but they are babies compared to those found at Sabal Palm Sanctuary. A visit is well worth the trip!