Transplanting Texas Sabal palms can be tricky. But, it's well worth the effort.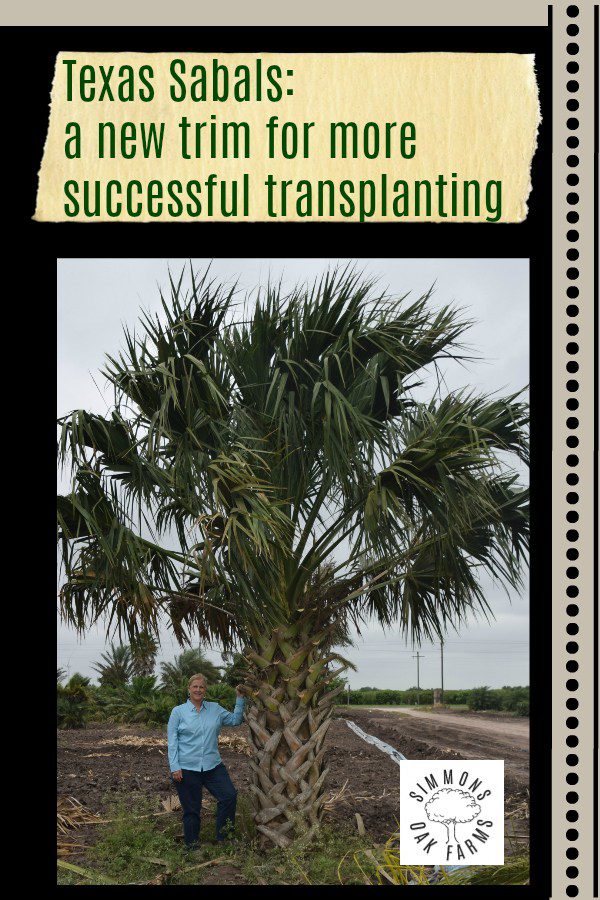 Why bother?
Texas Sabals or Sabal mexicana are the only large palm that is native to Texas. In addition to being beautiful, Texas Sabals are a benefit to nature. These are two great reasons to include Texas Sabal palms in your landscape. This palm has a full canopy that gives lots of shade and provides habitat for birds. Orioles are known to nest under the dry fronds and parrots and parakeets eat the ripe seed. They are equally beautiful in a well-tended home landscape or a neglected highway right-of-way or a parking lot baking with radiant heat .
Sabal Palm Sanctuary in Brownsville boasts of one of the last few croppings of native Sabal forest in the United States.
The Sanctuary sits on a 527-acre tract of land on the Rio Grande in Brownsville and is one of the most uniquely biodiverse habitats in the country, containing one of the last vestige of original Sabal Palm forest in the U.S. The Sanctuary provides breeding habitat for many endangered or high-priority birds and is a critical source of shelter and food for migrating and wintering species
Transplanting Texas Sabal Palms – How this palm reacts to cut roots
The good news is that naturalized Sabal palms are now found in brushlines throughout the Rio Grande Valley and south Texas. In other words, they are making a come-back. The bad news is that when transplanting a field grown sabal palm, the survival rate is only between 80 and 90%. This is due partly to the fact that when a Sabal Palm root is cut, that root dies and the palm must re-grow new roots from the base of the tree. The palms energy is now split between keeping the large fronds green and re-growing new roots. The large fronds pose another problem; they provide a large area for the wind to catch and move the entire tree, breaking new feeder roots.
How We Trim
At Simmons Oak Farms, we field grow our Texas Sabals in three different areas of Cameron County.   We want to increase the transplant survival rate so we've been testing different ways to handle the Texas Sabal palm.    Although it seems harsh, we have come up with a frond trimming process that takes the risk out of Sabals.     We trim all but the most recent set of fronds. We remove the fan and leave the petioles on these fronds. Lastly, we chop the emerging spike in half.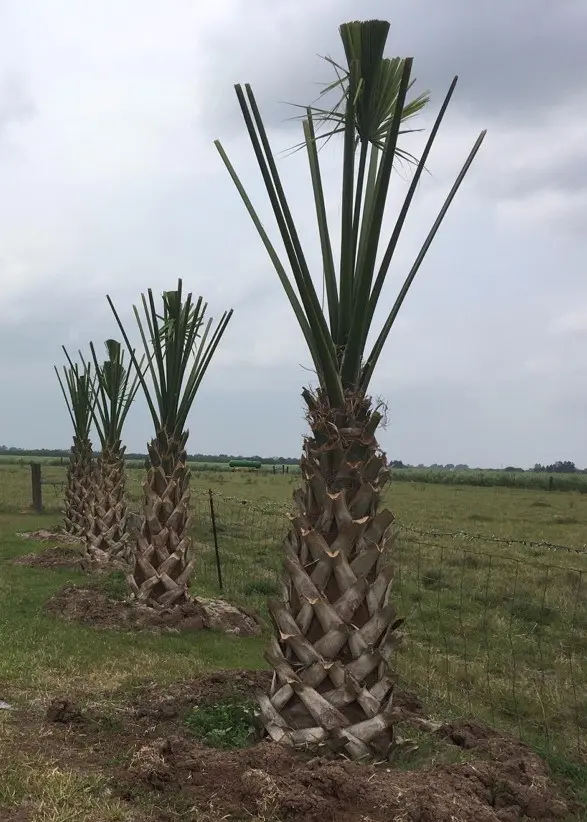 Why This Trim Works
These are some that we installed in my personal landscape. This was the day they were planted in April of 2017. The trim may seem a bit unusual – until you see how it accomplishes the following:
Since the palm is not using energy to keep the fronds green, there is more available energy to grow new roots.
With no canopy, there is very little wind resistance. This keeps a newly palm from moving around and breaking any fresh roots.
The stiff petioles act as protection for the new, emerging fronds (the growth point), which are very susceptible to breaking.
. . . and here are these same four Texas Sabals – after a long, hot, dry south Texas summer . . . Notice that the petioles are still green! Each palm has flushed with fresh fronds. When the second set of fronds begin to emerge, I will trim off the bare petioles. By next spring, I expect to have a nice, full canopy. And we didn't have to go back to replace one that didn't make it . . .
Have you ever heard the saying, "Pretty is as pretty does"? Well, I think a no-fronded sabal is pretty darn pretty!